#BREAKING: UP govt makes registration of all Madrassas mandatory from today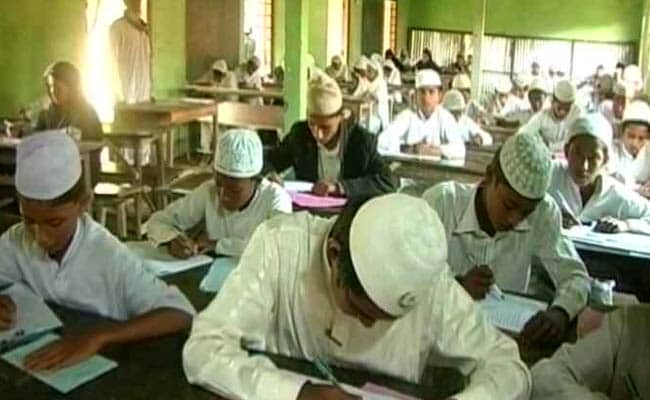 In a bid to check "irregularities in madrassas", the Uttar Pradesh government today launched a portal of UP Madrassa Board for online registration of all such Islamic institutions. "There were a number of complaints of irregularities in madrassas and it was decided to make the registration online so that details of all madrassas, their management, teachers, etc are available online," UP Waqf Minister Mohsin Raza told reporters here. This is a step towards digitisation which is on the priority of the Yogi Adityanath government, he said.
The move will bring transparency as all the details of the madrassa will be available online, the minister said.
"The madrassa education should also be modern like in other educational institutions. With modernisation, students of madrassas will be able to get technical education and they will get better job opportunities," Minority Welfare cabinet minister Lakshmi Narain Chowdhury said at the programme where the portal was launched.
There are over 19,000 recognised and 560 aided madrassas in the state, he said, adding that the new portal will help in improving the quality of madrassa education.
Attacking the previous non-BJP governments, Chowdhury alleged that they used madrassa for "appeasement" and as vote banks and there was no record of teachers, students, payments, registrations and other schemes maintained by them.
"Our government's priority is to give better and job-oriented education to all youths so that doctors and engineers are produced from these madrassas," he said.
Asked later by mediapersons about action likely to be taken against madrassas where national anthem was not sung on Independence Day, he said such madrassas "lack patriotism" and action against them is justified.
"Reports are coming from madrassas... We are looking into the matter," he said but did not elaborate on action likely to be taken against such madrassas.
MoS minority welfare Baldev Aulakh had earlier warned action against madrassas if they did not follow the order to them to unfurl the national flag and recite the national anthem as part of Independence Day celebrations.
At the launch programme Principal Secretary of the department Monika Garg said, "The portal is an attempt to connect all madrassas to a unified ecosystem. It will not only help in improving quality of education, transparency and also check exploitation of teachers."
She said that affiliation of new madrassas and their aid will be done through this portal.